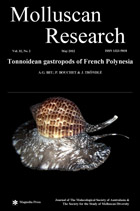 Online content
Current issue
Previous volumes
How to order
Institutional option
Individual option
Pay-per-view option
Information for authors
Manuscript submission
Taxonomic contributions
Short communications
General instructions

Molluscan Research
is an international journal for the publication of all aspects of molluscan research, including review articles, in all branches of the study of Mollusca (malacology), including biology, systematics, morphology, physiology, ecology, conservation, biogeography, genetics and biography.
The journal has been published since 1957 (as the Journal of the Malacological Society of Australia until 1993). It was published by CSIRO Publishing from 2001–2004 (vols 22—24) and those volumes can be accessed on the CSIRO Publishing website.
From 2013 (volume 33), Molluscan Research has been published by Taylor & Francis, who also hosts contents of older volumes (1–21).
Features
Monographs
Open-access papers