Monograph
Zootaxa 2041: 1-242 (16 Mar. 2009) 206 plates; 467 references Accepted: 24 Nov. 2008
Orchid bees (Hymenoptera: Apidae) of the Brazilian Atlantic Forest
ANDRÉ NEMÉSIO (Brazil)
Abstract & excerpt (PDF; 20KB) free | Full article (PDF; 14,890KB) Order PDF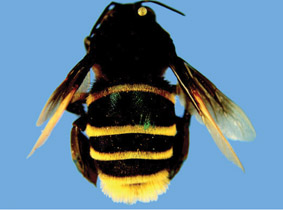 Eulaema (Eulaema) atleticana

The specific epithet is in honour of the glorious Clube Atlético Mineiro, one of the most important

football (soccer) Brazilian teams, which celebrated its centenary in 2008. Clube Atlético Mineiro, often known only as "Atlético" or simply as "Galo" (alluding to its symbol, a rooster), is considered to have the most fanatic legion of football fans in Brazil, which exceeds 6,000,000 people. The striped pattern of El. atleticana's metasoma resembles the striped black and white official t-shirt used by Atlético's players.
Papers published in
2001, 2002,
2003, 2004,
2005, 2006,
2007, 2008,
2009, 2010,
2011, 2012.
List of all papers by
taxa