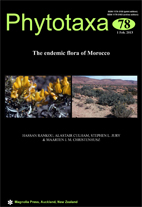 Buy a copy of this volume
Print edition US$25.50 + delivery
Phytotaxa 78 (1): 1–69 (1 Feb 2013)

Monograph
Phytotaxa 78: 1–69 (1 Feb 2013)
The endemic flora of Morocco
HASSAN RANKOU, ALASTAIR CULHAM, STEPHEN L. JURY & MAARTEN J. M. CHRISTENHUSZ
Preview (PDF; 50KB) | Full article (PDF; 2,300KB) Order PDF

Abstract

Morocco is characterized by high vascular plant diversity with an estimated 4200 species and subspecies of which 22% are endemic. This study presents an updated list of the endemic species in the Moroccan flora following the classification of APG III, including comments on their geographical distribution and ecoregions. The endemic flora contains 879 species and subspecies in 55 families and 287 genera. Three new combinations are proposed. The High Atlas, Middle Atlas and the Rif mountains are the three richest floristic regions for endemic species, but the endemics are not restricted to these floristic regions only. Conservation efforts are therefore necessary in both the Mediteranean and Saharan ecoregions to preserve the biodiversity and botanical richness of Morocco. In this updated checklist we propose a new combination (Verbascum demnatensis) and a new name (Verbascum hamidoui) in the genus Verbascum (Scrophulariaceae).