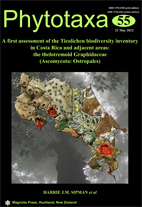 Buy a copy of this volume
Print edition US$47.10 + delivery
Phytotaxa 55: 1–214 (21 May 2012)

Monograph
Phytotaxa 55: 1–214 (21 May 2012)
A first assessment of the Ticolichen biodiversity inventory in Costa Rica and adjacent areas: the thelotremoid Graphidaceae (Ascomycota: Ostropales)
HARRIE J.M. SIPMAN, ROBERT LÜCKING,
ANDRÉ APTROOT, JOSÉ LUIS CHAVES, KLAUS KALB
& LOENGRIN UMAÑA TENORIO
Preview (PDF; 50KB) | Full article (PDF; 19,000KB) Order PDF

Abstract

In a continuation of our biotic inventory of lichenized fungi in Costa Rica and adjacent areas, we present a treatment of

the thelotremoid Graphidaceae, that is the genera and species formerly included in Thelotremataceae. A total of 186 species in 23 genera are reported for Costa Rica, plus an additional 30 taxa for adjacent areas (El Salvador, Nicaragua, Panama) that are expected to occur in Costa Rica. This is the highest number of thelotremoid Graphidaceae reported for any country in the world thus far, followed by Australia (173 species), Sri Lanka (130 species), and Panama (110 species). Together with our previous treatment of the genus Graphis, a total of 293 species of Graphidaceae have now been reported for Costa Rica in revised monographic works, with revisions of larger genera such as Phaeographis stillpending, suggesting that the total number of Graphidaceae in Costa Rica is over 400.....